3rd Annual Hulett Quilt Show
A sprinkling of historic and modern quilts will be on display at the Hulett Museum. Admission is FREE!
Stop by September 22 (9am to 4pm), 23 (Noon to 4pm), and 24 (Noon to 4 pm) to enjoy what our crafty community has to offer.
If you have any questions, please call the museum at 307-467-5292 or email us at hulettmuseum@rtconnect.net.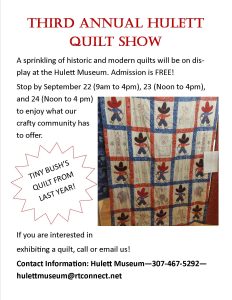 Axelbee Gang Presentation
­­­­­­­­­The Hulett Museum and Hulett Library will be hosting Mike Madler at the Hulett Library on Thursday, October 5, 2023 beginning at 1:30 PM.
In territorial days, Devils Tower was home to a band of outlaws known as the Axelbee Gang. Stoneville (now Alzada, Montana) was a lawless frontier settlement and one of their havens. In 1884, the Axelbee Gang and lawmen met there for a fatal clash.
Tom Waugh Art Show
Please join us at the Hulett Museum and Art Gallery on Saturday, October 14th from noon to 4 pm to celebrate the works of local artist Tom Waugh. Refreshments will be served.